Latest Travel Promotions, Discounts and Offers 2022 within Malaysia and Beyond
Good news to all my readers! I will be compiling all travel deals, coupons, and promo codes here on this page. And it will be frequently updated, so that you will get only the best and latest travel deals within Malaysia and beyond. Happy traveling!
Disclosure: I am an affiliate to most of the brands advertised here, which means that, if you make any purchase using these links, I will earn a small commission at no extra cost to you. This will help keep this blog going, and is a great way for you to support my work. 🙂
Malaysia Airlines Spring Into the New Year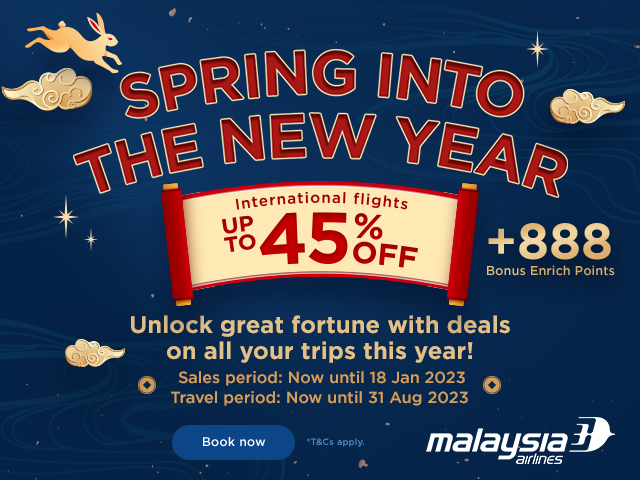 Spring into the new year with travel deals!

The new year is here. ​

Unlock great fortune in 2023 with enriching travels and discounts on flights up to 45%.​

​Whether you fly to Penang from MYR 88* all-in one-way or Hong Kong from MYR 1,388* all-in return, reap extra prosperity in the form of 888 bonus Enrich Points on top of what you will receive with any flight purchased now until 18 January 2023.​

​Indulge in a little extra for an abundant journey. From Extra Baggage to Golden Lounge Access, Value and Premium Bundles to Seat Selection, enjoy these add-ons with an 18% discount.​

Sales Period: Now until 18 Jan 2023​
Travel Period: Now until 31 Aug 2023
Click here to learn more.
MHshuttle Singapore - Kuala Lumpur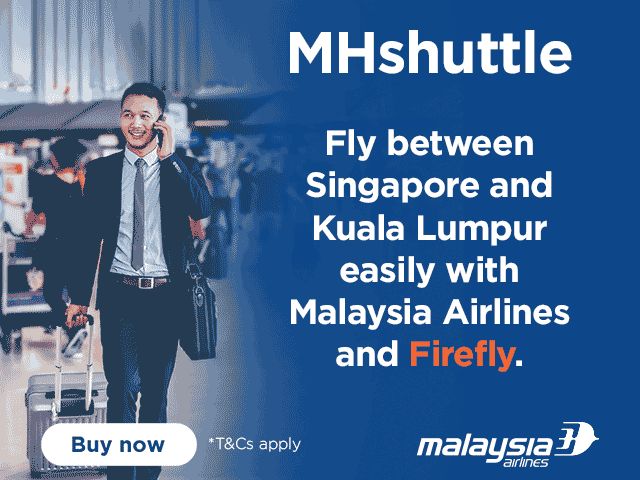 Fly between Singapore and Kuala Lumpur for work with ease!
With MHshuttle, flying for business meetings becomes just as seamless as the regular drive to the office! Now also available with Firefly, you can choose to fly to either KLIA or Subang Airport from Changi Airport or Seletar Airport. Choose whichever is more convenient for you!
We offer various time-saving opportunities and benefits. Make use of go show to board an earlier flight in the day, or free flight date change to choose a different day altogether. Enjoy dedicated priority check-in, extra baggage allowance, and so much more.
Terms and Conditions
For booking changes, passengers will need to contact the Global Call Centre at least 2 hours before flight on the day of travel.
*Other terms and conditions apply.
Promotion Period: 20 Sept 2022 – Ongoing
Click here to find out more.
Malaysia Airlines Bonus Side Trip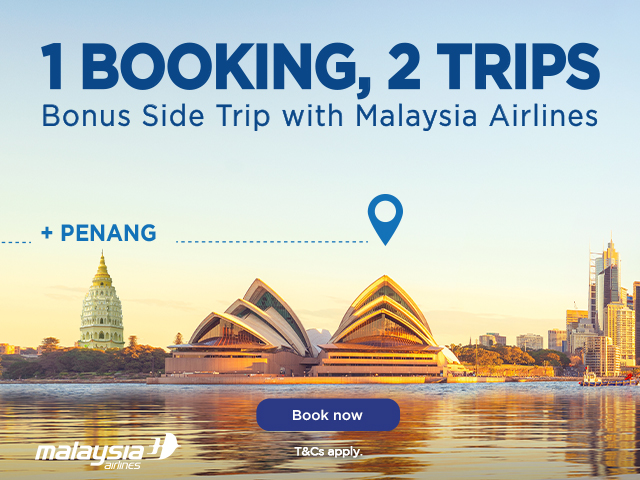 1 booking, 2 trips with Malaysia Airlines' Bonus Side Trip!
Flying international with Malaysia Airlines with a layover in Kuala Lumpur?
Well, how about turning that layover into a short stopover in Malaysia!
Enjoy a Bonus Side Trip* on us to any destination in Peninsular Malaysia. Explore the sandy white beaches, lush rainforests and Malaysia's unique blend of cultures before moving on to your next destination.
Selected "Bonus Side Trip" Peninsular Malaysia Destinations:
Alor Setar (AOR), Langkawi (LGK), Johor Bahru (JHB), Kota Bharu (KBR), Kuala Terengganu (TGG), Kuantan (KUA) & Penang (PEN)
To make a booking, please log in to malaysiaairlines.com
STEP 1: Enter your city of origin, destination city and departure dates.
STEP 2: The Bonus Side Trip tab will appear. Click on Bonus Side Trip.
STEP 3: Select your desired flights to any Peninsular Malaysia destination based on search results. The Bonus Side Trip is valid enroute from on international destination to another international destination or on the way back.
STEP 4: Confirm the flight selection before proceeding. Click the "Continue" button to enter passenger details and payment. At this stage, passengers will be able to add on any ancillary offers. Kindly note that local government and airport taxes are payable for the Bonus Side Trip.
Terms and Conditions
*Taxes and other fees will not be borne by Malaysia Airlines. Applicable for travellers flying from one international destination to another international destination on MHBasic, MHFlex and Business Class only. This deal is not available for ASEAN and International to Domestic routes and cannot be utilised with other deals/promotions by Malaysia Airlines. Other terms and conditions apply.
Fares are subject to seat availability and may vary accordingly to flight origin, destination and travel period. Malaysia Airlines reserves the right to modify or change these details at any time without prior notice. The flight schedule may change subject to customer demands and government regulations.
For more information on exit/entry requirements, you may refer to our Travel Advisory here at https://www.malaysiaairlines.com/uk/en/advisory/travel-information.html
Other terms and conditions apply.
Click here to find out more.
Promotion Period: 5 Jan 2023 – 31 Jan 2023
Malaysia Airlines Economy Flex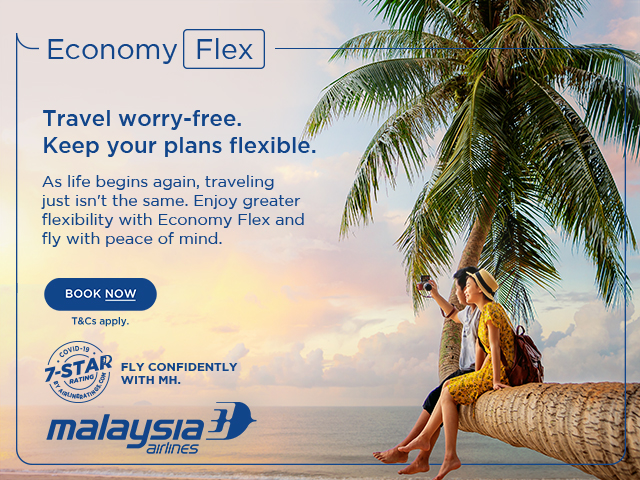 Travel worry-free. Keep your plans flexible.
Latest update on Malaysia Airlines Economy Flex product for MH:
35kg check-in baggage
25% child discount
Free standard seat selection
Flexibility to board earlier on day of travel (subject to availability)
Rebooking: Unlimited free date change (fare difference applies)
Refund without a fee
Priority check-in
Priority boarding
Priority baggage
Free basic travel protection*
10% off next flight purchase*
10% off extra legroom/emergency exit seats*
10% off Temptations
* only available via online booking
These features are available on Malaysia Airlines flights to all destinations except Malaysia to Japan, Japan to Malaysia, Jeddah and Madinah.
Promotion Period: 5 Jan 2023 – 31 Mar 2023
*Terms and condition apply.
Atmosphere 360 Revolving Restaurant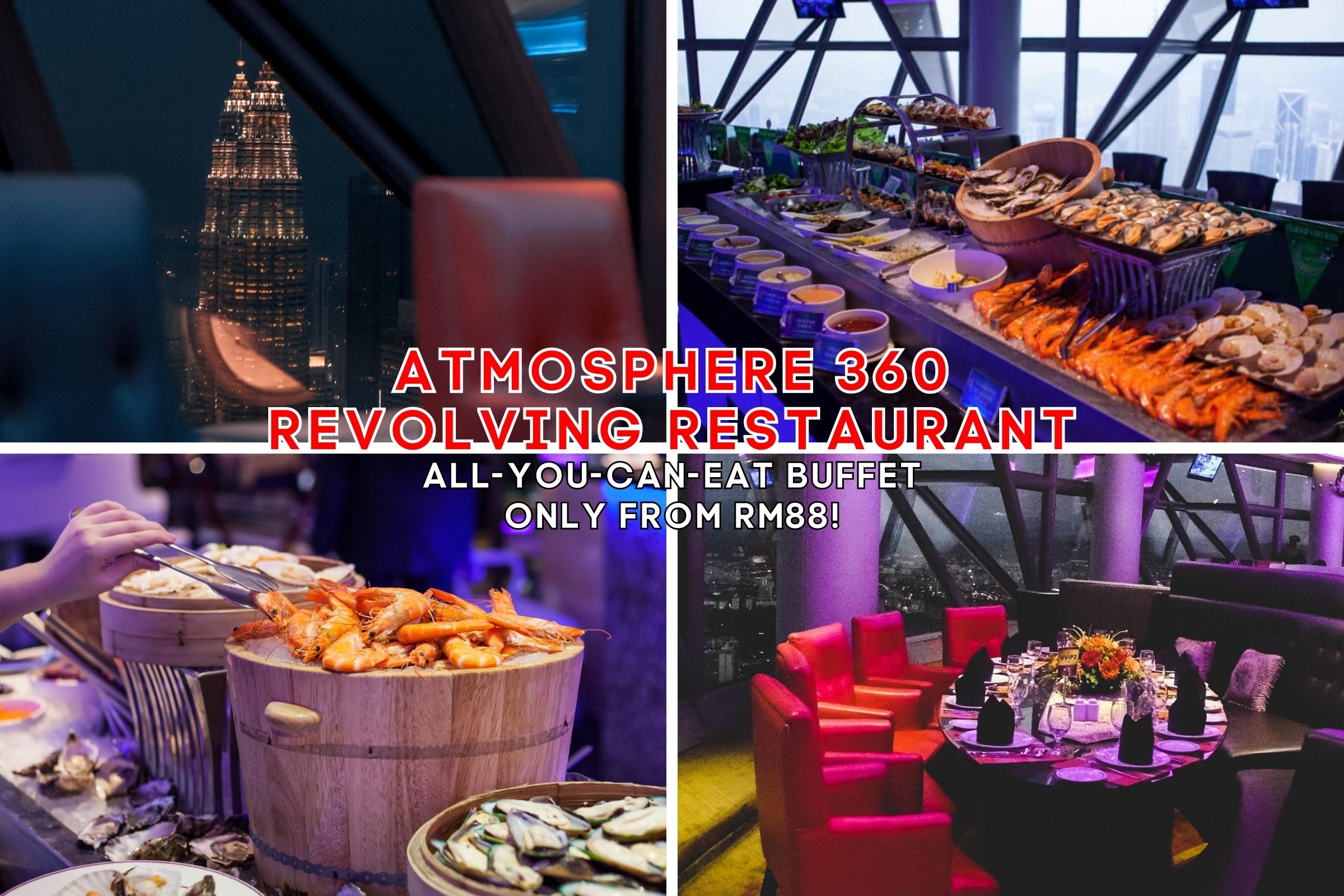 Must-Visit Romantic Restaurant For Couples – 360 Revolving Restaurant, all-you-can-eat buffet only from RM88 onwards❗️Delicious food plus amazing views!
Atmosphere 360 at KL Tower is one of KL's classiest dining experiences with a stunning 360-view of KL city.
Serves delightfully hearty meals consisting of both local and international cuisines made using premium ingredients.
Various buffet packages to choose from, including lunch, afternoon tea, and dinner.
Now with festive offers for Christmas and New Year!
Only from RM88 / pax
Book now to surprise your other half and create unique and beautiful memories together!
Promotion Period: 26 Oct 2022 – 31 Jan 2023
Click here to find out more.
KKDay 5% Off Europe Activities
Get 5% off, no minimum spend and no discount cap when book travel activities for Europe through KKday Application.
Promotion discount code : "APP5OFF"
*Terms & Conditions Apply
* This discount is applicable for selected products on this campaign only.
• This discount is not applicable for all Universal Studios Japan, JR Pass, Kansai Thru Pass, Osaka Amazing Pass, Tokyo Disneyland, Swiss Pass, and some special products as defined and may be updated by KKday
• The amount of coupon code is limited.
• KKday reserved the rights to stop this coupon code to be used on certain travel experiences without prior notice.
• KKday, at its sole discretion, may amend, change, or modify all points stated on its Terms & Conditions without any prior notice.
Promotion Period: 6 Oct 2022 – Ongoing
Firefly from RM79 One-Way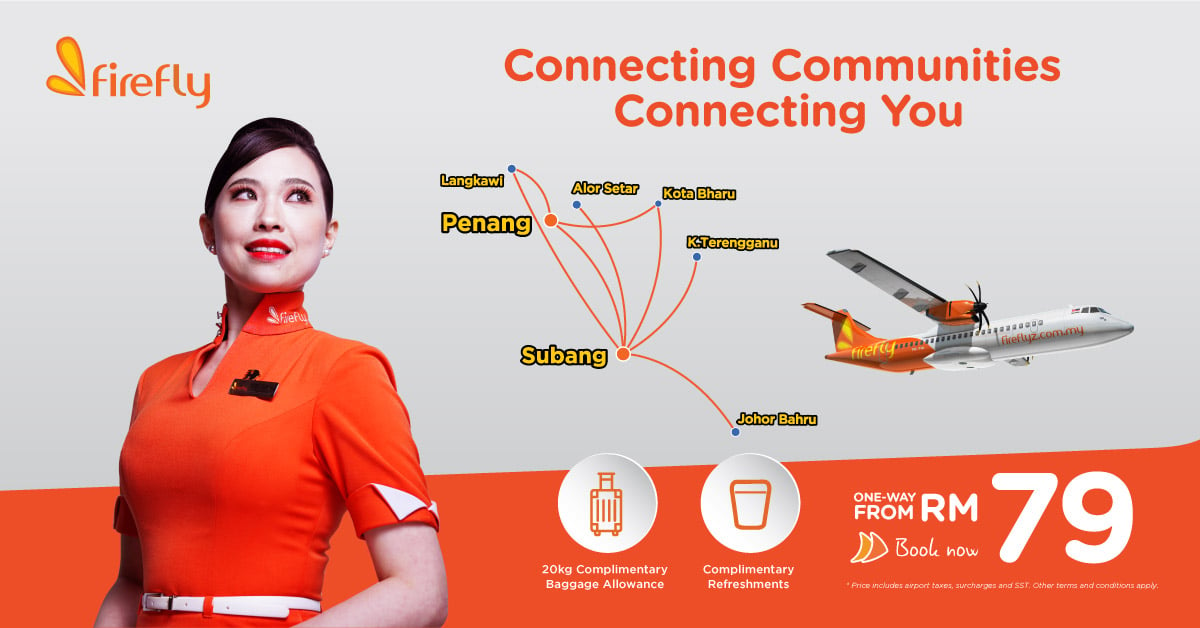 Get one-way tickets on Firefly from only RM79* with 20kg complimentary baggage allowance and complimentary refreshments.
Promotion Period: 24 Jan 2022 – Ongoing
*Price includes airport taxes, surcharges, and SST. Other terms and conditions apply.
Click here to find out more.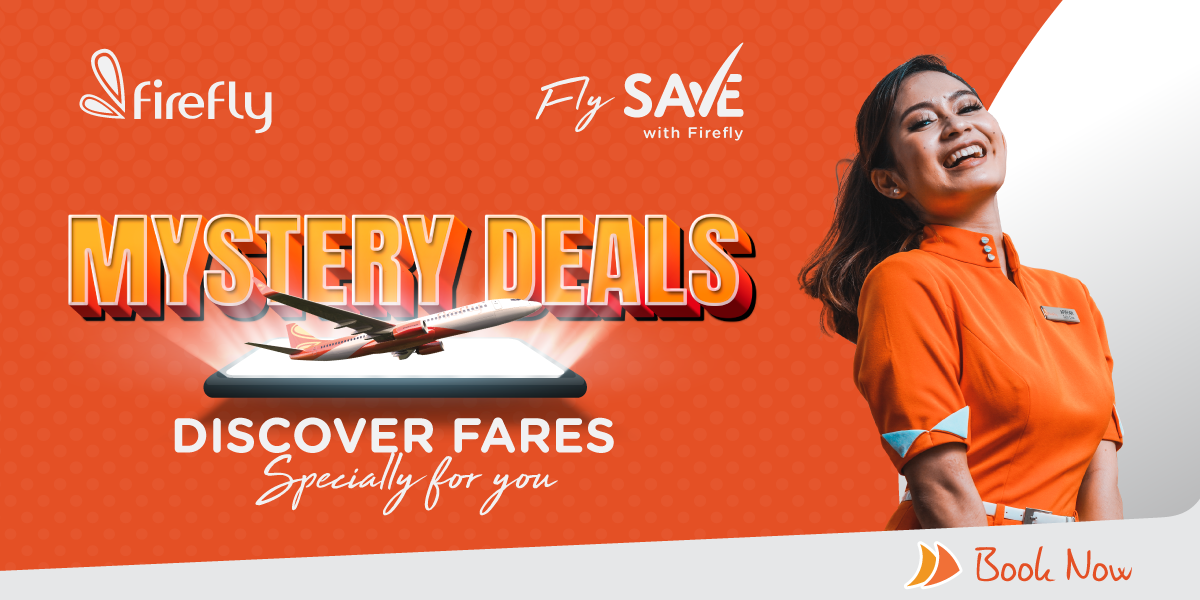 Introducing Mystery Deals. Featured are some of our domestic and international destinations, such as Singapore & Thailand and soon Indonesia with great value. Book your next trip with Firefly Airlines.
Discover fares specially for you. We curated the best fare on a weekly basis so that you will be able to find a value flight deals for your upcoming travel. FlySave with Firefly!
Promotion Period: 1 Jul 2022 – Ongoing
Click here to find out more.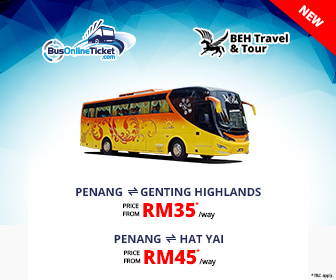 The pick-up and drop-off points in Penang by Beh Travel are located at Penang Komtar, Prangin Mall, Jelutong-Shell, Sungai Nibong, Chai Leng Park-Caltex, Air Itam, Greenlane McDonalds, Tambun Toll, or Jawi Toll.
The pick-up and drop-off point in Genting Highlands by Beh Travel is located at First World Hotel while the pick-up and drop-off point in Hat Yai is located at Hat Yai Princess Holiday Tour.
Promotion Period: 17 Jun 2019 – Ongoing
Click here to learn more.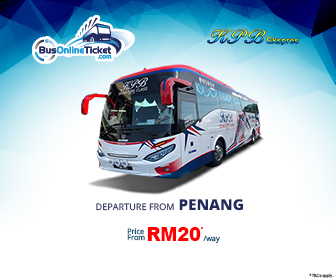 KPB Express bus from Penang or Butterworth to Kuala Lumpur, Malacca, Ipoh, Shah Alam and Johor Bahru from RM20/way only.
Promotion Period: 20 Jul 2019 – Ongoing
Click here to learn more.